At Lanes Car Hire we are based in Bromley and we have been serving generations of drivers since 1976. Whether you are looking for a nippy hatchback or a spacious people carrier, we have the right vehicle for you.
We stock cars from leading manufactures including Audi, Ford, Fiat, Vauxhall and Toyota. All our cars are the latest models and most of our cars are under 12 months old.
Our dedicated staff keep each model in exceptional condition. You can choose between manual and automatic and air conditioning is also standard for your comfort and convenience.
We will be happy to advise you on the right car for your needs and budget.
Cheap Car Hire in Bromley, Kent, BR2
At Lanes Car Hire we can offer you cheap car hire without compromising on quality. Our position as market leaders means that we can offer you extremely competitive rates.
You can hire one of our superb late model cars from just £35 per day. VAT is included in all our prices. We are scrupulously honest with our pricing and there are no hidden charges.
Our prices also include comprehensive insurance.
Full RAC assistance is also included to keep you safe in case of breakdown.
Whatever your budget, we are confident we have the right choice for you.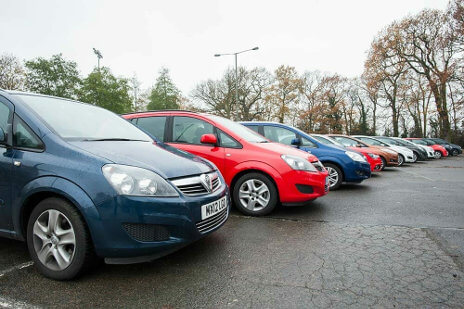 Weekend Car Hire in Bromley, Kent, BR2
If you are looking for a vehicle for a weekend trip or getaway we can offer you our special weekend hire package. For only £90 you can have a modern late model vehicle from Friday until Monday.
If it's just you and a few passengers we would recommend a nippy runabout, great for negotiating traffic and easy to park. If you will be taking a group or people or large family, we recommend one of our roomy people carriers which will enable you and your passengers to travel in comfort and style.
Whether your needs are for business or for pleasure, we have the right vehicle for you to enjoy over the weekend.
Self-Drive Car Hire in Bromley, Kent, BR2
Self-drive allows you the convenience and ease of travel by car without the added expense and complications of hiring a driver. At Lanes,  we specialise in self-drive car hire. Our well maintained top of the range vehicles are a pleasure to drive and come with a range of options including automatic or manual drive and air conditioning.
We do require that you have a minimum of 3 years driving experience, both for your protection and for ours.
When hiring a car with us, we need to see the following: driving licence with photographic ID, home address verification, and proof you are over 25.
Low Cost Car Hire in Bromley, Kent, BR2
Lanes Car Hire was founded on the principle of low cost car hire for the public. Over the decades we have built an impeccable reputation for the best service and prices on car hire in Bromley, Kent and across the South East.
We have provided our services to several generations of satisfied customers throughout the region. They can attest to our commitment to affordable car hire and attentive customer service.
Hiring a car with us could not be more simple. Just give us a call for an instant quote. When you've made your decision your car will be waiting for you to collect.
Our friendly staff are always on hand to advise and answer your questions.
When renting a car it is important that the vehicle is presented in top conditions, has been fully checked and prepared and is backed by a high level of assistance in the event of an accident or any other eventuality.  All car hires are assured of only the best support which will allow you to get on your way as speedily as possible.
All Car Hires feature the following:
Vehicles covered by RAC Assistance
Friendly and helpful services
Vehicles comprehensively insured
Competitive weekly, daily and weekend rates
All prices inclusive of VAT
Maximum insurance excess £500
Transparent and No Surprises
Collision Damage Waiver (CDW)
Per day £10
1 week £50
2 weeks £95
3 weeks £145
4 weeks £180
Extra driver
on policy
Per day £10
Weekend £25
1 week £25
2 weeks £50
3 weeks £75
4 weeks £100
Comprehensive Insurance
All of the prices details listed include fully comprehensive insurance with a £500 excess. This Insurance does not cover any damage caused by carelessness such as wheels and / or trims that are damaged by "kerbing", damage to car interiors, as well as punctures or mirrors.
Sat Nav and
Wheel Refurbished
Sat Nav £5.00 per day or £20.00 per week
There is a £75 charge for alloy wheel damage, this is payable per damaged wheel – this charge is for us to have the alloy wheel refurbished.
REQUIREMENTS
To adhere to the new legal requirements, please ensure you have your Driving Licence, National Insurance Number and 2 utility bills as proof of home address ready at the time of booking.
FUEL
Cars are typically supplied on a "¼ tank to ¼ tank" basis. No refunds will be given for any unused fuel at the end of the rental period.
RETURN VEHICLES
Vehicles must be returned during our normal hours of business unless otherwise arranged. Returns are not accepted outside of these hours. Customers that return vehicles late will be charged a fee that equates to 1/5th of the daily rate per hour.